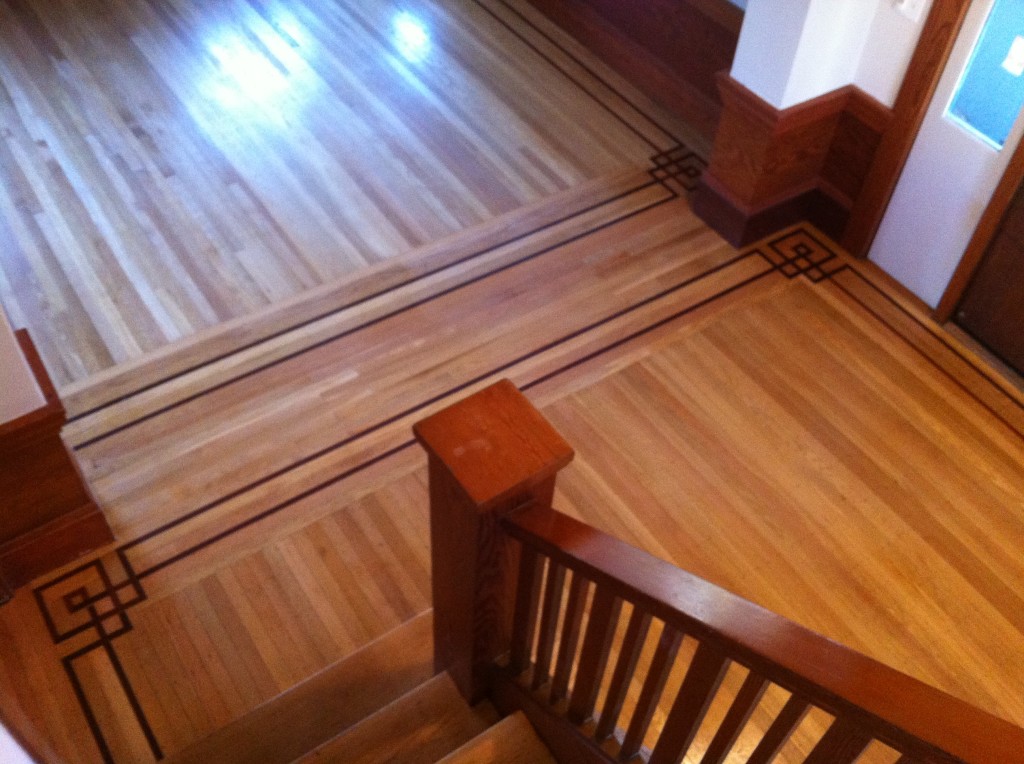 Avi was fantastic. We had him install hardwood floors in our family room. He was extremely knowledgeable and very customer oriented. I have hired many people to work on various properties and Avi ranks the highest. We had someone in our house leave footprints before the floors were dry. He came back touched them up no questions asked. Very happy with the service and will bring him back to do the rest of the house when we decide to install floors there.
James S.
Walnut Creek, CA
---
We recently purchased a home in Danville, CA that required repair of water damaged hardwood floor, refinishing of the floors adjacent to the damage and installation of 3,000 sf of new oak strip flooring to match the existing floors in the home. Needless to say, this was a large, complicated project that challenged almost every aspect of hardwood floor installation, repair and refinishing. Avi and his team completed the project on time and on budget and the results were extraordinary. We constantly receive compliments on the beauty of the floors and the fact that you can't tell old from new or what was repaired. Avi is the consummate professional and takes great pride in his work. He and his team are friendly, courteous and of very high integrity. I give Avi my highest rating and would be happy to serve as a quality reference for any project!
Mark R.
Danville, CA
---
Having read previous reviews of his work, I contacted Avi to redo about 900 SQ Ft of red oak flooring. Showed up on time for consultation, and provided a quote just as he said he would. The dustless sanding of the wood took one afternoon and was just as advertised, pretty much dustless. Avi and I had decided on a color of stain, but after having viewed my preference on Houzz, Avi had mixed his own new color of stain for my floors. Avi and his crew are top notch. The floors come out magnificent, his crew were prompt and professional, and they did the whole job without impacting any of the trim work. Avi used water based polyurethane, and the smell was tolerable within a day of the job. All in all, I only spent two nights living in the garage and there were no fumes. The stain was the worst smelling part. Floors are fabulous and Avi is an exceptional contractor. Highly recommended.
Kenneth S.
---
I am an architect, and found Avi through a recommendation from a general contractor I work with. I couldn't be happier with the work he and his assistants did at my own house. We had some existing oak floors that were refinished, and new oak flooring was added to the kitchen. Avi's work was exceptional, and I found him to be very professional. He was always very good about showing up on time, sticking to a schedule, and very pleasant to work with. I was very impressed at his ability to control dust from sanding. We added to the scope of work a couple of times once he had started the project, and he was fair about the additional cost. I have work with a variety of people in building trades, and I would say that my experience with Avi was one of the best. I highly recommend him!
Stephen S.
---
Avi installed hardwood floors for me three times for remodels of two different properties. He is a joy to work with, extremely informed, provides thoughtful informative advice and his work is impeccable. He helped me think through all sorts of implications of flooring decisions (heating, moisture, appliance clearances). Clear about dates and periods required to do the work, responsive to phone and text, and sticks to the planned schedule. Competitive prices. Creates inventive solutions to difficult problems. I will go back to him forever and recommend him to anyone.
Roy G.
---
Avi did an excellent job on our floors. We live in a Berkeley bungalow from 1907 and had a floor in the dining room that had been replaced with laminate in an attempt to match the beautiful white oak floors that were original to the house. Needless to say, the laminate did not work. We asked Avi to come out for an estimate–he gave us a competitive estimate and was very straightforward about the process so that there were no lingering questions. His team stuck to the timeline, accommodated our schedule, and left us with beautiful floors to enjoy for years to come. Avi is a craftman, someone who clearly takes pride in his work. I would definitely call him again if we need any more work done. Thanks, Avi!!
Tamar A.
---
Avi is a superb craftsman. He did a refinishing job for us that was just about perfect. He is also very nice and reliable. Did everything exactly when he said he would. And was even done sooner than expected. His price seemed to be in line with other floor refinishers. The only difference was the extra high quality of his work for the price.
Barbara M.
El Cerrito, CA
---
I have now been through five consultations to obtain quotes for hardwood floor re-finishing. And must say was only completely impressed by one person who possibly said the least amount of spoken words to me. I only met Avi after hiring a really bad company that completely messed up my floors, he came recommended by a hired forensic floor expert. His approaches was unlike any of the other sales men who came to look at my space. He is extremely accredited and from his photos does beautiful work. That's not why I'm giving him a five star review without having had him refinish my floors yet. Out of the other floor companies he didn't try to sell me on what I wanted to hear. He told me he didn't like the current stain we had chosen on my floors, and with a very brief couple of questions indicated why I shouldn't like it either. He took very little time asking me what things in the floor bothered me, and pointed me in a entirely different direction to what I thought I wanted. He also took one look at my dog and made a accurate assessment for our lifestyle. Avi himself seems quiet but confident in his ability, assuring me he would only need one opportunity to complete my floors. Unlike the last company who disrupted my life multiple times to re-do and touch up. I will update this review after my floors are re-finished, but if his consultation is anything like his work I can't imagine my stars changing.
Stacee C.
San Leandro, CA
---
Avi did an absolutely perfect job laying new hardwood in our kitchen. He communicated clearly, responded to my queries immediately, worked swiftly, without dust (incredible!!) and is truly an artist of his craft. I got several bids and felt I trusted Avi's skills and expertise above the rest. I was right. Don't bother shopping around. Use Avi. Within no time at all, your floors will be flawless & gorgeous.
Martha M.
Berkeley, CA
---
Avi installed new hardwood floor for our hallway, exercise room, and office. He also refinished the dinning room and kitchen to tie in with the new floor. The new floor has beautiful borders, feature strips, and center piece in the office. What a great job! We love and enjoy the beautiful floor every single day. Avi is definitely not an average floor guy. He's an artist and a true floor master. Big thumb up!
Scott J.
Orinda, CA
---
We just had our hardwood floor refinished and repaired by Avi. Outstanding work and craftsmanship. Avi stuck to his time commitments and completed the job in a very timely fashion. We are very pleased and you will be too.
Lenore H.
Concord, CA
---
Avi was our first choice. He went above and beyond our expectations! This was the 3rd (and final) refinish on our original flooring. We had some companies tell us they couldn't do it and recommended all new floors, we had some say they could only do a partial refinish. Avi said he could do it all and do it better than anyone. He did! And, he did it without the house being dusty. It was amazing. We didn't have to move everything in the cupboards and closets because he uses state of the art machinery that doesn't make dust! Amazing! Our floors look better than when we did this 13 years ago.
Jodi G.
Corte Madera, CA
---
Avi is professional, accommodating, and does amazing work! Avi recently installed new hardwood floors in our home in Pinole Valley. We contacted several contractors for quote and Avi was the only one who showed up on time and provided us a quote in a timely manner. Avi worked with our schedule to install the new floors. We had everything timed to get the floors finished a week before our Wedding reception. However, I had a great idea to keep the water line for the refrigerator connected while it was outside in our back yard and ended up severing the line… This was discovered 4 hours later after the newly installed hardwood was sufficiently soaked. We were not able to get it dry in time for the reception, However Avi came over the day before the wedding and buffed the untreated floors to make the look great for the party. Our new Oak floors that Avi installed look AMAZING beyond my wildest expectations. Give Avi a call if you need a new floor!
William B.
Pinole, CA
---
We had Avi refinish the oak floors in our home. The wood was in good condition but the finish had faded and needed to be brought back to life. Our two concerns were getting the quality finish we wanted and controlling the amount of dust and debris generated during the sanding process. Avi is definitely an expert and well versed in his field. He clearly explained the process in detail, highlighting how his equipment and expertise would minimize the amount of dust generated as well as deliver a quality finish and luster in the wood that we were looking for. Needless to say he delivered as expected. He is on time, dedicated, detail oriented and focused on his craft. Highly recommended and wouldn't use anyone else!
Art A.
Oakland, CA
---
We had a small repair for Avi (doggie damage) – he came in and gave us a quote, even showed us a couple of other spots he could fix…and now my floors look amazing. You can't even tell where the damage was. I would definitely recommend Avi to anyone…in fact my next door neighbor got her entire house redone!
Deanna M.
El Cerrito, CA
---
The best in his business! Avi is PRO and his workmanship is top notch. He refinished the floors in our entire home and we couldn't be more pleased with the results. Highly recommended!
Craig B.
Emeryville, CA
---
Avi refinished over 1000 sq ft of Oak flooring for us and after several years it still looks great. This floor was T&G solid oak that had seen 25 years of hard family and pet abuse and we questioned if it could ever be restored to it's original beauty. The professional work by Avi gave us a floor that looks better than new (I installed the original). They did the work without disturbing our household and left the job spotless. I would highly recommend them for any flooring work.
Jack O.
Livermore, CA
---
Got bids from four floor companies. Avi was the only representative who showed up and really demonstrated his knowledge. His work was absolutely first rate, done precisely on time, and he was able to add some great touches to my floor that all my guests notice when they first enter the house.
Foozle F.
San Francisco, CA
---
We used Avi's when we moved in to our new condo on the Lake in 2006. He did a great job restoring the original floors with a non-toxic water-based finish. They've lasted through numerous dance parties. Avi is also just easy to work with, no hassle, smart, and amicable. We have referred him to at least two other people who've also all been pleased.
Isaac K.
Oakland, CA
---
We hired Avi in 2005 when we first bought our house. We saw his ad in the Yellow Pages and gave him a try. We expected the floors to shine then, but they're still incredibly beautiful. We recently had to ask him to come out and replace a few boards when we had the wall heaters removed for forced air. Wall heaters require holes in the floor for the gas pipe. It was such a small job: we worried that he wouldn't take it, especially since the local floor company told us that most flooring specialists would only do jobs of 2000.00 or more. Anyway, after scouring the web, we found him again and contacted him. He not only did the job for an incredibly fair price, but you can't tell that you're looking at a repaired floor too.
KJ. 
Guerneville, CA
---
Avi refinished our hardwood floors in three rooms. His attention to details and professional demeanor made the project go very well. He was very easy to work with and answered all our questions. We recommend him.
Doug W.
Danville, CA
---
We have beautiful oak wood floors in our hallway, dining room and kitchen. Thanks to Avi's proessional guidance and expertise, the job went smoothly and on time and within budget. Couldn't be happier. Avi is a world class craftsman and clearly loves his work.
Richard B.
San Francisco, CA
---
I have worked with Avi three times in several rooms over eight years. He was patient in sharing his knowledge about various flooring options, showing me the downside of some bamboo I was considering, competitively priced, with no change orders to increase the final bill, and he met every timeline. He works well with General Contractors and sub-contractors. The cleanup was immaculate and the results stunning, matching seamlessly with adjacent hardwood floors. The several floors installed eight years ago over radiant heating have needed no further work at all, even with multiple tenants, perhaps because he goes an extra mile to put on many coats. On a scale of one to five, Avi is a nine.
Roy G.
Berkeley, CA
---
Avi is awesome! We were quoted a competitive price & he stuck to both our budget & timeframe. He takes an enormous amount of pride in his work & it shows in our beautiful floor. Would definitely recommend him!
Lisa P.
Livermore, CA
---
Avi installed wood floors in my condominium. He gave me a good price for high quality maple floors. He patiently met all the conditions set by my crazy HOA. He also did the installation in a short amount of time according to my schedule for moving in. I would definitely use his services again and I would highly recommend him to others.
Amanda L.
San Francisco, CA
---
Avi installed hardwood floors throughout our house. He provided spectacular workmanship and materials. The custom entry puts a smile on my face every time i come into the house. His attention to the details and professional knowledge makes his work artistic as well as functional. We could not be more pleased with the results. Avi is not just a skilled craftsman, but an artist as well.
Jon L.
Pleasant Hill, CA